As it comes to Darwil, since I became interested into whole WIS thing, I had a bit of sweettooth for these vintage watches.
Why? Well, they were very popular in ex-yugoslavia area, and even sung by a local punk band KUD Idijoti in song named..well.."Darwil". Verses are roughly translated "for a modern man/who knows what time is/who goes to meetings/drinks, drives a space shutlle/and f***s"
The song itself was a sarcastic look at the Yugoslavia in the end 70s/begginig of the 80s: with the awakening of the middle class in socialistic society of that age (that was something totally different tha other eastern block countries of that age, actually a kind of economic experiment with basically capitalistic market approach, moderated by a state and run by enourmous flow of western capital and placement of local products in eastern countries that kept the whole unsustainable system running – at that time, Yugoslavia was a "buffer zone" between Eastern block an NATO and both sides had interest in keeping the status quo)
Factories were all working, uneployment rate was under 10%, all Yugoslavs had free medical insurance, free pension plan and despite notorius "communist party one minded torture that choked civil rights" (intentionaly quoted) – they were basically free to speak their own laguage, practice thir own religion and to spend all their hard earned money...if they find a place to spend it on.
Local shops offered mostly domestic products, for example you could buy local produced clothes, local produced cars (that were to be honest crap and KUD Idiots made a great joke of them in the song) but most of the time you were waiting for the payment check to go to Trieste on a shopping tour.
Trieste was a local small Italian town, on todays Slovenian border, and over there you could buy anything – from jeans to baby food, from golden earrings to parts for your car..if you had enough guts to smuggle it across border (to be honest, most of the custom officers at that time knew that people smuggled goods over the border and did not care about it ,as long as you bribe them with something..usually liquor and cigarettes).
And offcourse, you could buy Darwil in Trieste: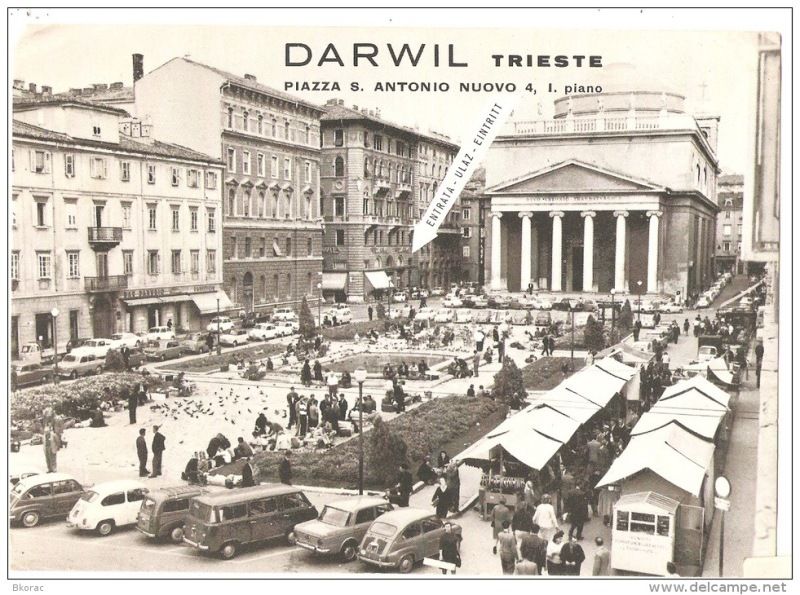 Darwill was actually something you could today call a "microbrand".
Although it was actually a italian based company, all their watches were made in Switzerland and company itself was registered (on a few different occasions actually) in Gretchen valley.
As their business expanded, they entered yugoslavian market with smart approach: lowered the profit margins so they could keep the price lower than competition and offered wide range of affordable wristwatches or as the ad in the local newspaper quoted "quality for a few bucks".
And indeed, they were great watches.
As it comes to some basic models chronology – it is mission impossible. They have had almost all types of watches: from handwound basic wristwaches, similar to HMT, automatic watches, chronographs, pocket watches, dive watches...over 3 million watches came out with Darwil badge on them!
But I will try to name a few I came across in few years:
Basic models are handwound mechanical watches, diameter around 33-37 mm, with chromed cases and usually subdial second, run by 17 jewel movements, that were all personalized and engraved with factory logo and even had personalized nomenclature (for example, Darwil 7041 is actually a Pesseux 7001 movement, Darwil 7018 is Unitas 6325 etc)
Variety of models and movement is almost endless. Mylord 72, Special Flat Lord 63, Special Flat Darblock, Snow Star...movements were Peseux 7001, FHF 76, Unitas 6325, ASchild movements..or anything that was swiss made, and thin enough to fit into "ultraflat" cases.
Almost all that I had were different. Even had two identical models, with the same model name on dial, that were run by different movements: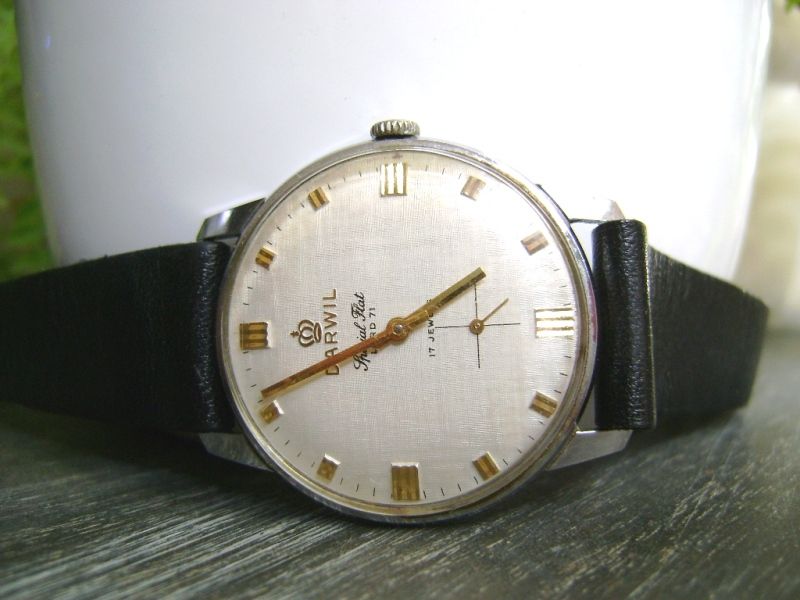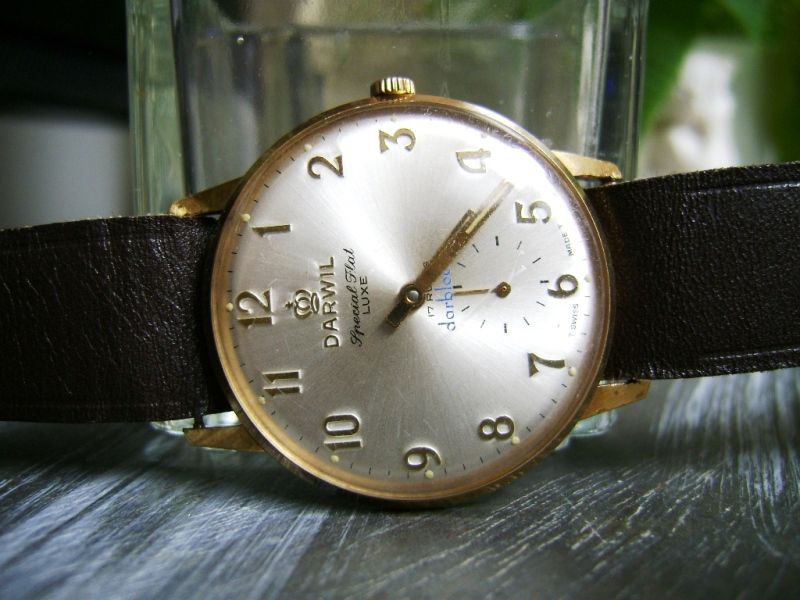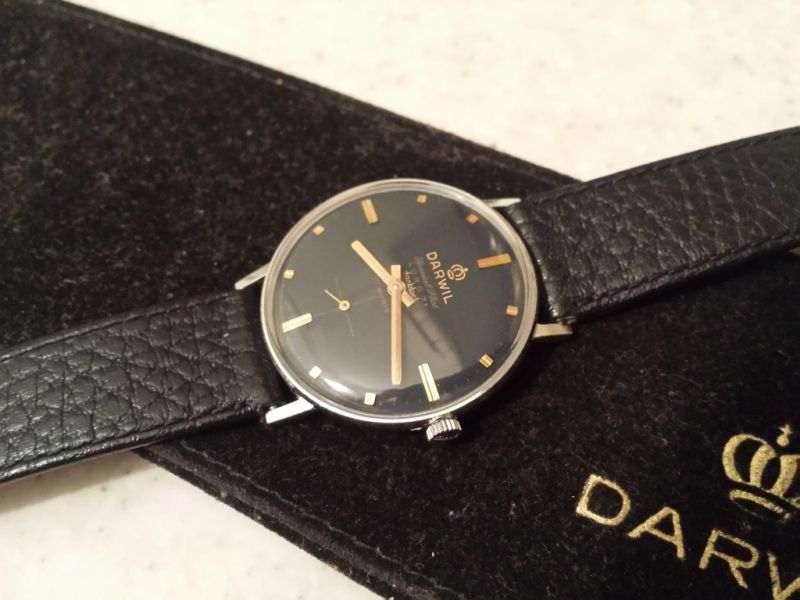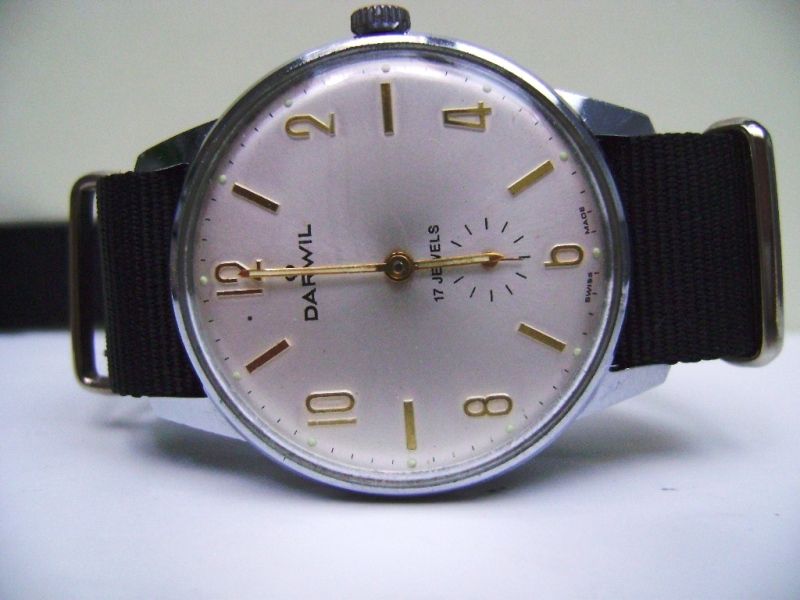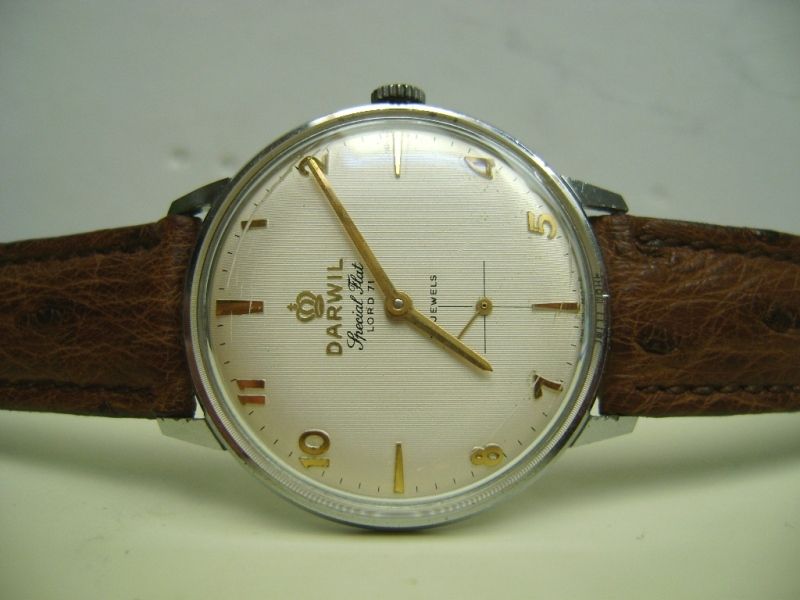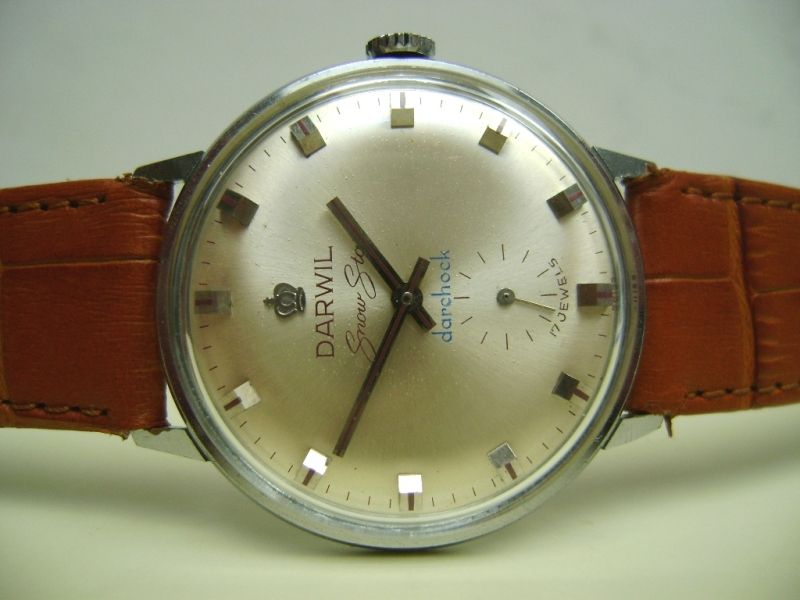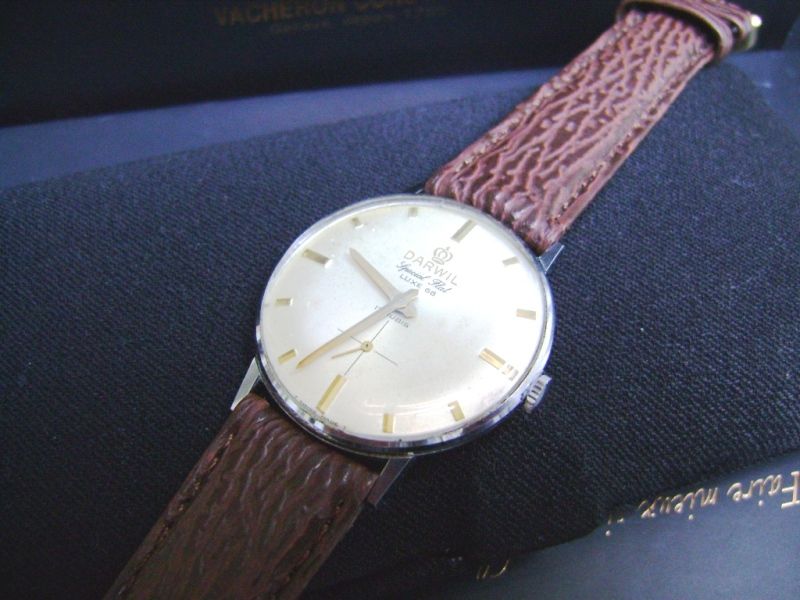 What about automatics?
Also, variety of models. With Felsa movements, AShild movements, ETA movements...and often with funky seventies design: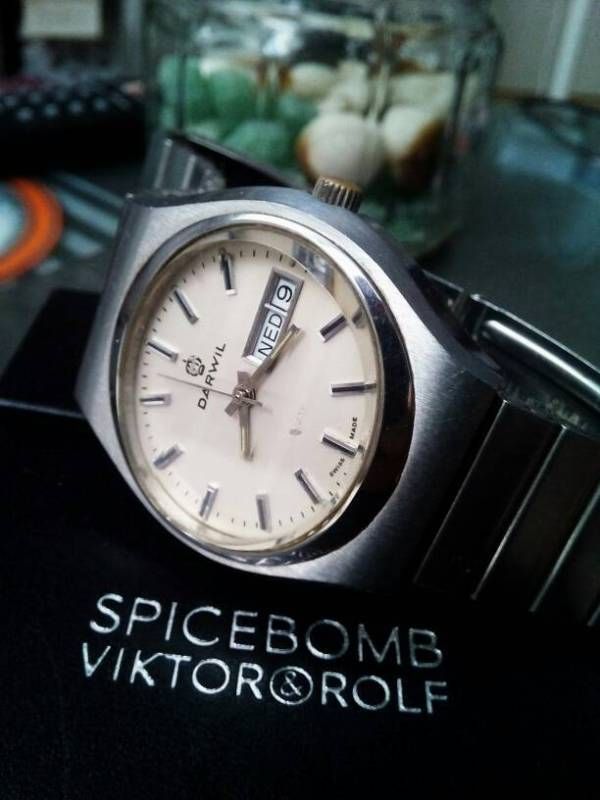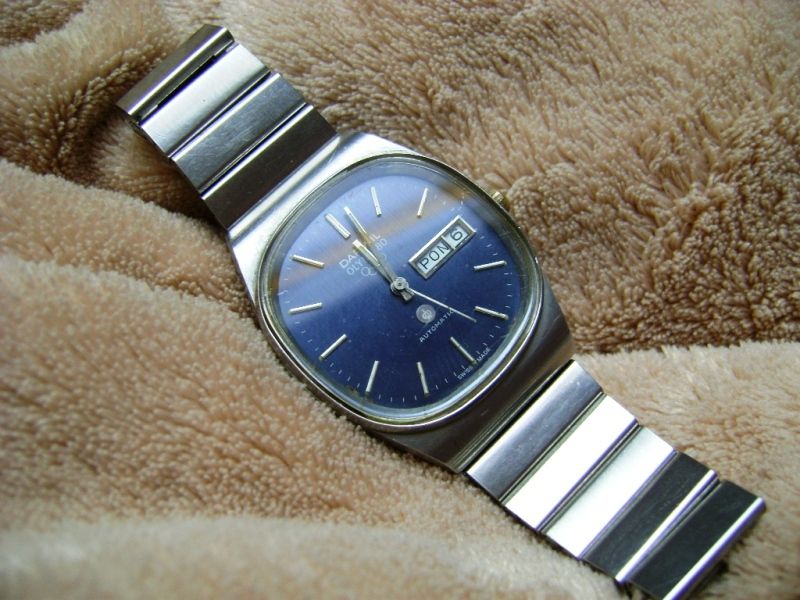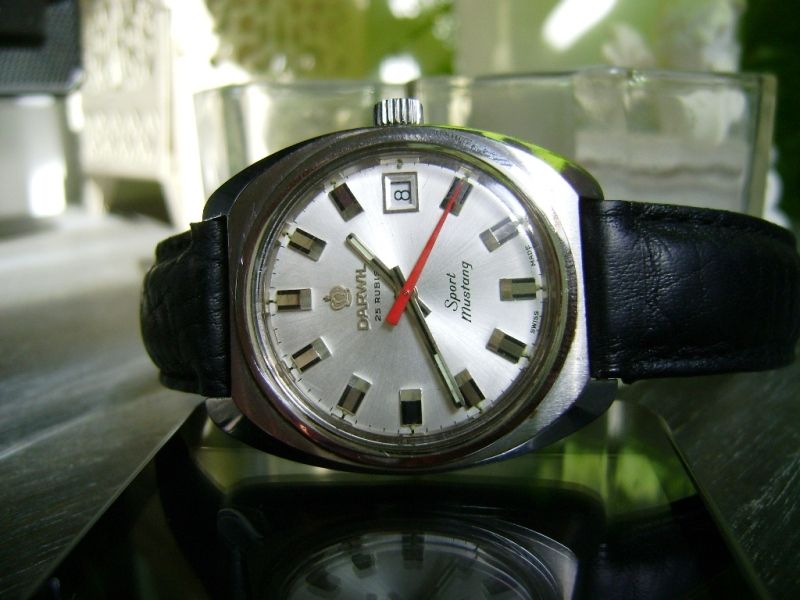 this one was special: Felsa movement with 57 rubies (!?) - 17 operational, others were inserted into transmission cogs for pure decoration:
They also made chronographs, that are highly sought after: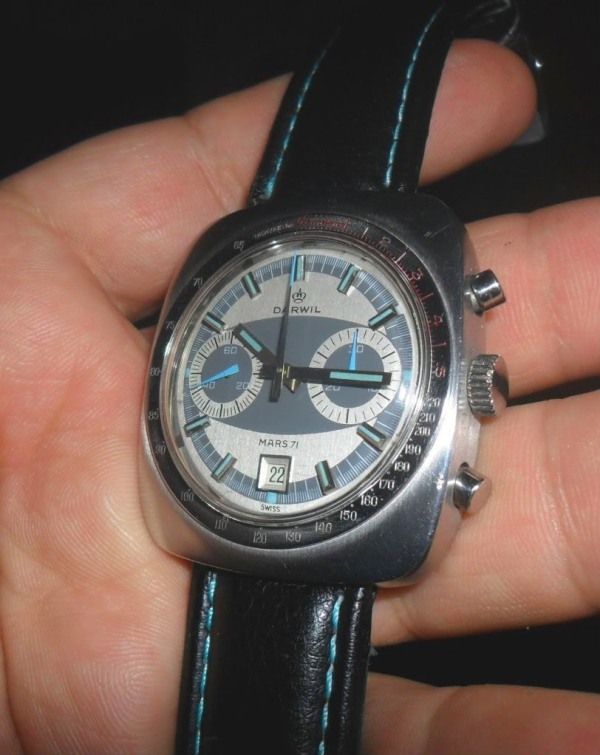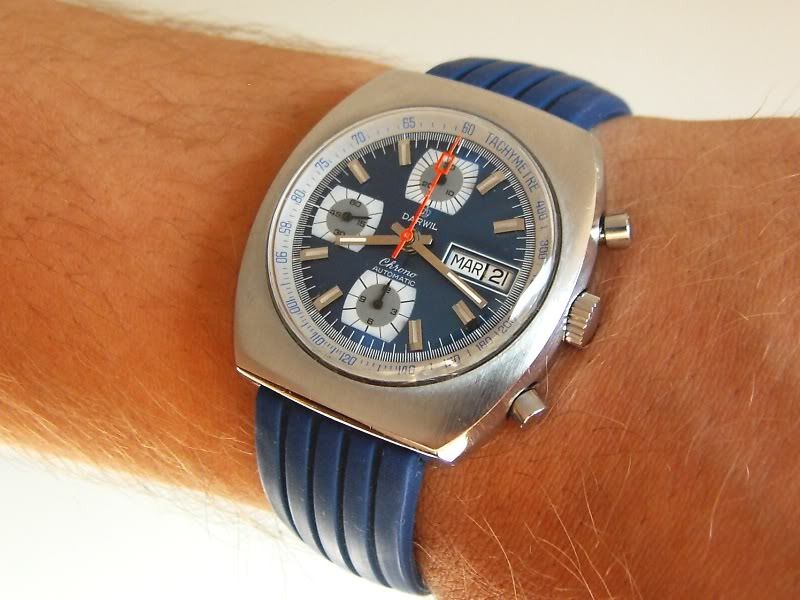 And also dive watches, most sought after are tho ones with Squale cases. Almost impossible to find: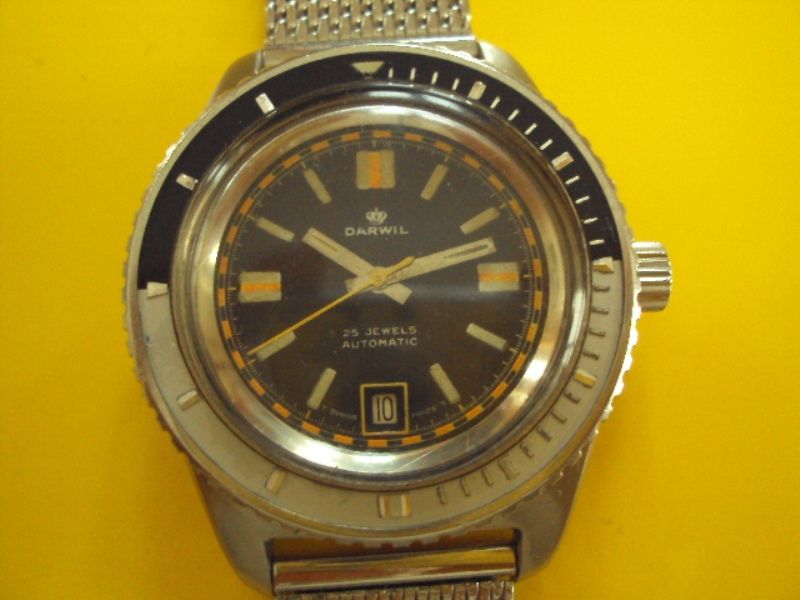 And some interesting designs as well, with dual crowns (I actually owned the one with dual crowns as shown on ad), vertical date windows, oval cases, TV cases..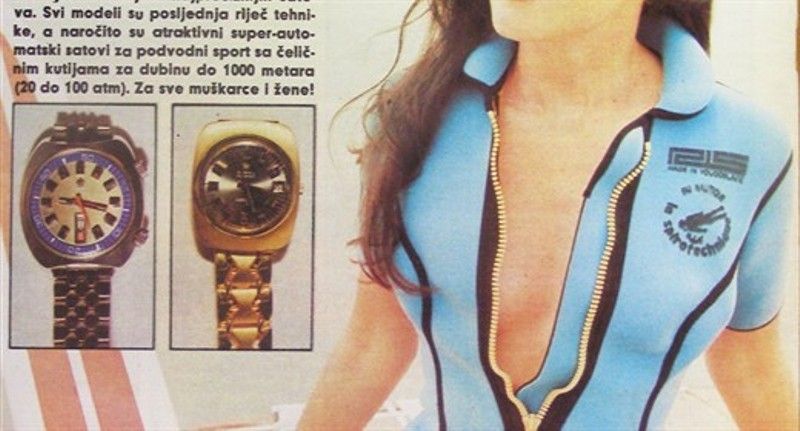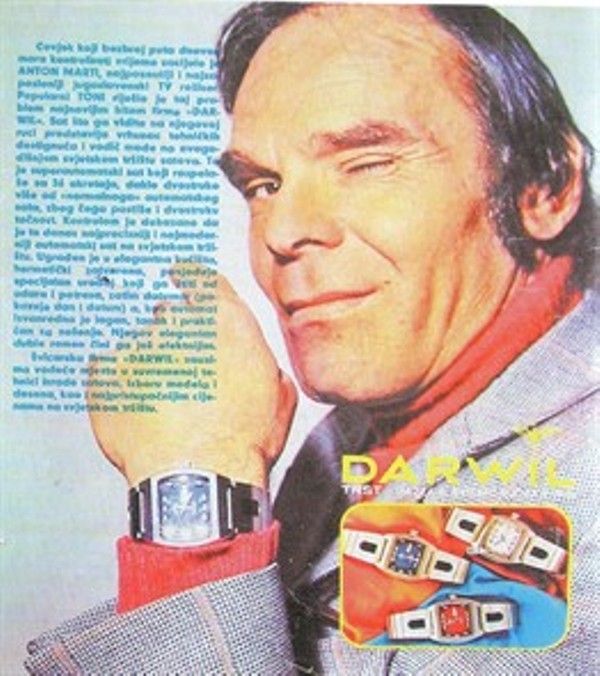 And in 80-ies quartz watches. Including digital watches. I owned solar powered digital Darwil in NOS condition, now at watch collector in GB.
And all those Darwils I have seen are just a tip of the iceberg...I always find myself surprised, as I discover a new variation on local flea market, pawn shop or at local version of Craiglist.
Advice if you want to purchase a Darwil?
Cases on basic lines are sensitive. These watches were in 90% of the time worn, and often worn to the bone. Cases with chrome missing, scratched crystals, water damage is usual.
Good thing: movements were really great. All were swiss, all were common, so servicing or repaire should not be a problem. Replacement cases are actually easy to find, either on Ebay or in my case at local watchsmith or even flea markets
If the cases are stainless steel, no worries. Just have the movement serviced, put it on wrist and enjoy.
I have owned around 100 different Darwils, and at this moment have an 60-ies model in NOS condition on rehaul and also rare 50-ies model with AS automatic and oval case, with its original bracelet and few other, including one of the diver models in sight
Will I get more of them?
Certainly. New variation will come along. And will be surprised.