Yesterday morning, I popped into a friend of mine's jewellery shop to see what watch goodies had been brought in for him to buy from members of the public and he had just acquired two pre-owned watches, one of which was a nice but somewhat dull, stainless steel Longines quartz chronograph. The other watch, however, was more interesting and it set my brain whirring into research mode. This watch was a heavy all-solid silver number, with nice big hallmarks on both the watch back and the bracelet clasp. The case was a simple square cushion shape and the dial had a sort of all-over relief pattern in silver. The name Roy King was in black script on the dial, with the word "SWISS" in the lower portion, and the two hands of the watch were black and of the block type. I thought at first this must be a quartz watch, but the jeweller informed me that it was a simple hand-wind example and dated to the mid-1970s.
So, who is this mysterious Roy King, and should I be interested in him? Well, the jeweller gave me the emphatic answer, partly in his telling me that he is going to ask about £250 for the watch, and partly because he also told me that Roy King watches had been part of the sixties/seventies fashion scene.
Roy Cecil King was born in Kentish Town, London, on 6 may 1913, and was almost immediately fostered out to an elderly foster mother, Mrs Wells, who eventually adopted the boy. Mr Wells, a roadsweeper, was killed by the terrible influenza pandemic of 1919, and the question was soon posed as to what should be done with Cecil (as Roy was then known), with the possibility being raised of the boy going to Barnado's. Ultimately though, fate smiled on Roy (Cecil) King, and his help with the housekeeping, while still at school, by delivering hand-laundered shirts paid off when one of his customers, who managed a large jewellery firm in Hatton garden, offered him an apprenticeship in 1927.
Roy King, aged 14, therefore became apprenticed to M J Greengross, and on his first day at the bench, he was put next to an Italian craftsman suffering with tuberculosis and told to learn as much as he could from the man before he died. The consumptive coughing of the Italian made him an irritable master, and the learning process at the bench involved a mallet being used to crush any work that fell short of perfection. Fortunately, this tough learning process was not the only learning King underwent at Hatton garden as he also attended evening classes at the Sir John Cass Art School, where he became skilled at the art of mounting diamonds. Also at this time, King was performing as a jazz pianist and comedic master of ceremonies in his spare time.
By the age of 21, Roy King was foreman of a high quality jewellery workshop, creating one-off pieces that were sold through Bond Street jewellers. Some of the pieces ended up in the hands of members of the Royal Family, and in the 1930s, King was often working, uncredited, for names such as Garrard, Rolex, Cartier and Asprey. Roy King married his first wife Peggy Milner, in 1936, and they went on to have three sons and a daughter (his second wife, after the first marriage was dissolved, was Ilona Banquoti). Roy King was always learning, and he acquired important expertise in the use of machine tool techniques during the War, when he was a planning engineer on the production line of the Hurricaine - expertise that would later prove to be invaluable in his jewellery and watch business.
After the War, Roy King finally began to design and make watches under his own name, after setting up a workshop in Watford. Although jewellery was the main product at first, from the early 1950s Roy King began to concentrate more on watches, or as he put it, "jewellery that tells the time". However, it should quickly be pointed out that he was not a watchmaker in the sense of manufacturing his own movements. I am not sure where the movements came from that power the earliest watches by Robin King - they may have been British - but when restrictions on the import of Swiss watch movements were lifted in 1960, Roy King immediately started to use these in his watches, clearly with an eye towards the popular conception that Swiss movements indicated quality. Indeed, Roy King signed an exclusive contract with Bueche-Girod, the Swiss movement manufacturer.
9 carat gold Roy King gents watch with plain black dial and bark effect case decoration. Note that the 17-jewel hand-wind movement is marked "R KING" (pic from ebay.ie):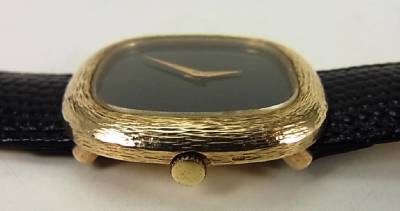 When the 1960s began, Roy King was well-placed to play his role in the "swinging sixties" and started the decade by sweeping the board at the British Modern Jewellery Exhibition in 1961, winning two first prizes, one second prize and one third prize - the winning pieces are now held permanently at Goldsmiths' Hall. It should be remembered that Roy King was not solely a watch designer, and through the sixties, many different jewellery pieces were made by the King workshop as well as watches. An example is the "bark finish" on bracelets etc., pioneered by King, with a bark finish wedding ring being part of the marriage of George Harrison to Patti Boyd in 1966. Roy King could also number Tom Jones, the Beatles and Saudi princes among his customers.
Roy King's business continued to expand through the 1960s, and in 1965, he built his own factory near Watford, employing 65 staff who made 25,000 gold and silver pieces a year. In 1971, he won a National Export Council Award, and also became a Freeman of the City of London. As part of his continuing expansion, King purchased the Swiss watch company, La Montre Royale de Geneve, in 1973, and the watches branded with this title were among the most luxurious ever produced and especially popular in the Middle East.
Roy King cushion shaped silver gents watch with black leather strap from 1974: Case back of the watch also shown below (pics from poshtime.co.uk):
Roy King was 60 in 1974 and marked the occasion with a one-man show at the Goldsmiths' Hall and the launch of a new collection of silver watches. He continued to work actively well into his eighties, having opened a showroom in Mayfair in 1980 and continuing himself to make one-off pieces for clients. He died aged 87 in 2000, having lived to see some of his pieces come up for sale in London auction rooms and witnessing the inclusion of several items by him in the 1999 "Treasures of the Twentieth Century" exhibition in Goldsmiths' Hall.
Roy King square solid silver gents watch and bracelet, hallmarked London 1973. Mineral glass and hand-wind Swiss movement
(pics from horologytrader.com):
Having now handled a solid silver Roy King watch and looked at pictures of others, and having also noted the wide variation in prices for pre-owned examples, ranging from under £100 to well into the hundreds, I need to come to some sort of conclusion about King and his watches. The watch I handled was certainly very tactile and the design very pleasing, but now that I have seen other Roy King watches, including examples for ladies, I am somewhat underwhelmed.
There is hardly a glimmer of what one would have expected from a jeweller and designer working in the heat of the sixties design world, and the designs are pretty repetitive and not very adventurous. The key signature points on the watches seem to be the use of only two hands, mostly in a blocky style, and plain faces with little or no adornment. There is always the excuse that the watches are aiming to be minimalistic, and some of the greatest designs have followed the functional minimal look. Unfortunately, I would not place the Roy King watches into that exalted category, as they just seem to be simple ordinary designs, lightly echoing their period but not redolent of it.
And finally, I do find the lack of technical features a bit disappointing. The watches tend to be simple hour/minute hand pieces and the movements are simple jewelled hand-wind examples. I have not so far seen a Roy King chronograph or watch with even a date window, and the lack of such mechanical complications does tend to make the Roy King watches even less interesting than they already are. I am sure that the watches are well-made and do carry a certain cache. However, I would hesitate before spending out a relatively large amount of money to buy a Roy King watch, because I feel that I can acquire a truer and more interesting period piece from the sixties/seventies for considerably less.
Roy King ladies silver-gilt-cased watch - sold in 2012 for £50 (hammer price) which shows how inexpensive pre-owned ladies watches are compared to gents' watches (pic from highroadauctions.co.uk):