Guru

Posts: 379
Joined: Thu Jul 06, 2017 2:19 pm
CW-watches: 7
Location: Shropshire
Contact:
FS: MSTR MAJOR MJ106TL Gold/Black
viewtopic.php?f=46&t=51230
Breitling
B-1,
CWL
C9 Big Day Date x2, C60 Trident 300, C9 Jumping Hour Mk III, C9 Moonphase, C60 Trident Pro 600 x2,
Steinhart
Ocean 1
---
Senior Forumgod

Posts: 10569
Joined: Sat Jun 16, 2012 6:24 am
CW-watches: 30
Location: Sunshine Coast, Australia (ɐᴉɭɐɹʇsnɐ)
When I first looked at it, it seemed such a simple, innocuous looking watch, that I could understand why people would dismiss it out of hand, rather than hate it. However, watching that video and looking at all of the elements that go into it; it's a seemingly innocuous watch, but one that is beautifully designed and made, has many features that I would imagine will continue to delight the owner for many years to come. The hollow lugs, the octagonal case concealed behind the circular bezel... just lovely features that you miss at a cursory glance.

Would I buy one? Unlikely at best, but it doesn't stop me from admiring its subtle elegance and beauty. I like it. A lot...

Thanks for posting this.
CWL C1+4xC3+7xC6/60+3xC7+C9+C11+7xC60T+5xC65+C70+C600
Omega Ω 7xSpeedy+9xSeamaster+2xConnie+DeVille+Dynamic
Zenith+2xTudor+5xFarer+4xOris+7xMagrette+29xSeiko+9xVtg
B&R+Hamilton+LumTec+Lacroix+Mido+MkII+2xSteinhart+3xVisitor+more
Family 12xCW+2xΩ
---
Senior Forumgod

Posts: 8701
Joined: Sat May 21, 2016 3:45 pm
CW-watches: 5
Location: Edinburgh
Having watched the video, I agree wth Gary. It is, on close inspection, an exquisitely made watch. The display back of the movement (
), curved crystal another amazing feature.
The only things that would could against it for me - the hour/minute hands I'm not sure about, perhaps could be more distinctive. Secondly the price. It seems all the cases are PM. The cheapest in the range is the £26k black dialled white gold cased version in the video
Patrick
C7
Hornet
COSC LE, C60 FLE Scooter
Blue
, C60 Trident mk2.5 White/
Red
, C65 Ombre COSC LE, W11(wife)
Some others + a few on the way
---
Moderator

Posts: 21101
Joined: Sat Jun 11, 2011 7:34 pm
CW-watches: 7
LE-six: Yes
Location: Norfolk, UK
Hate? Why? I would love one of those. Not bloomin' likely, alas.
Steve
The half minute which we daily devote to the winding-up of our watches is an exertion of labour almost insensible; yet, by the aid of a few wheels, its effect is spread over the whole twenty-four hours.
Charles Babbage
@Avo238
---
Senior Forumgod

Posts: 1792
Joined: Sun Jan 19, 2014 11:44 pm
CW-watches: 1
Location: Hua Hin, Thailand
I had this on my wrist a while back. Discreet is the word.
They had to threaten me with the Police to get it back - I sulked when it came off!
It's not in your face or blingy, but it oozed quality.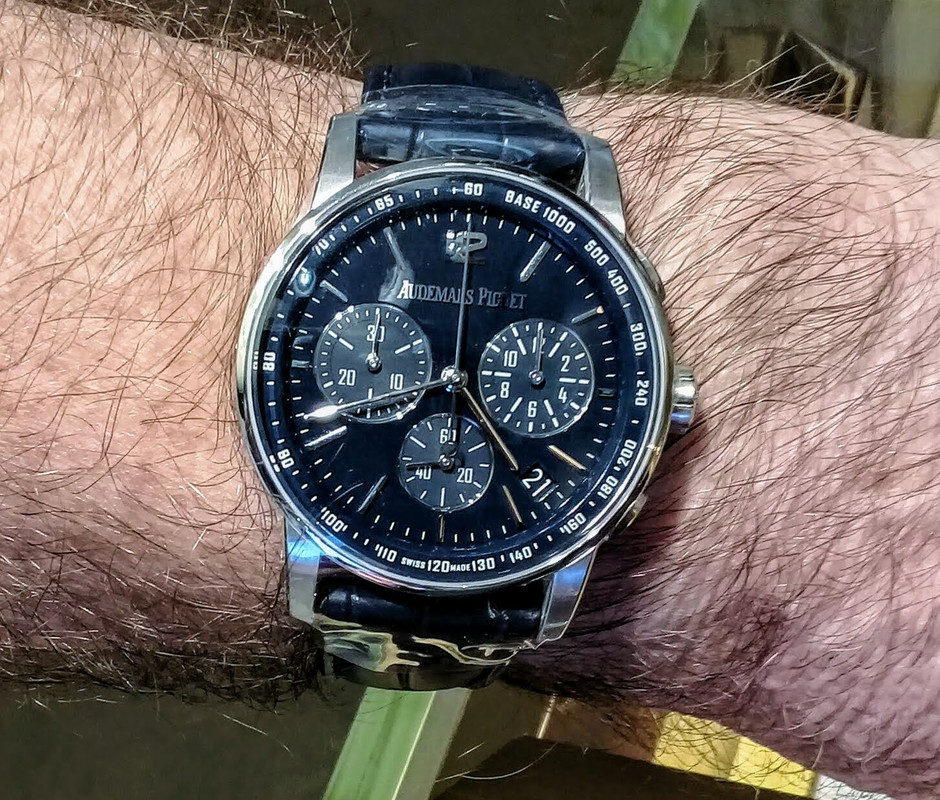 'Tis me
---
Senior Forumgod

Posts: 1118
Joined: Wed Apr 22, 2015 11:07 pm
CW-watches: 7
Location: New Jersey
Contact:
I've watched the video. I thought the AP 11.59 was beautiful. I'm not sure if I'd ever be able to afford one though. Maybe if I sold all the Omegas....
Mark
Bremont, Casio, Citizen, Christopher Ward, Omega, Orion, Oris and Seiko
---