I mentioned doing this a few months back, but got sidetracked. A number of members have expressed an interest in getting started with a vintage collection, so I thought it might be nice for those of us with a little experience and/or a watch or two to post some pictures, guidelines and comments.
I'll kick off with my three pieces from the '50s and '60s (all bought from two different dealers in Norwich). I keep them going most of the time and wear them frequently. They are all very good timekeepers (manual wind) and go for several days without needing to be adjusted. Definite long-term keepers!
1. 1960 Omega. Gold plated but wearing very well. 33mm dia. exc. crown. Just my favourite watch of all (as many of you know) even ahead of the Nomos. Gained 88 sec in a month in last November's vintage challenge. Acquired December 2008, this was the watch that really started me on the slippery slope, even though I'd worn my quartz Omega Polaris as a daily beater for 17 years.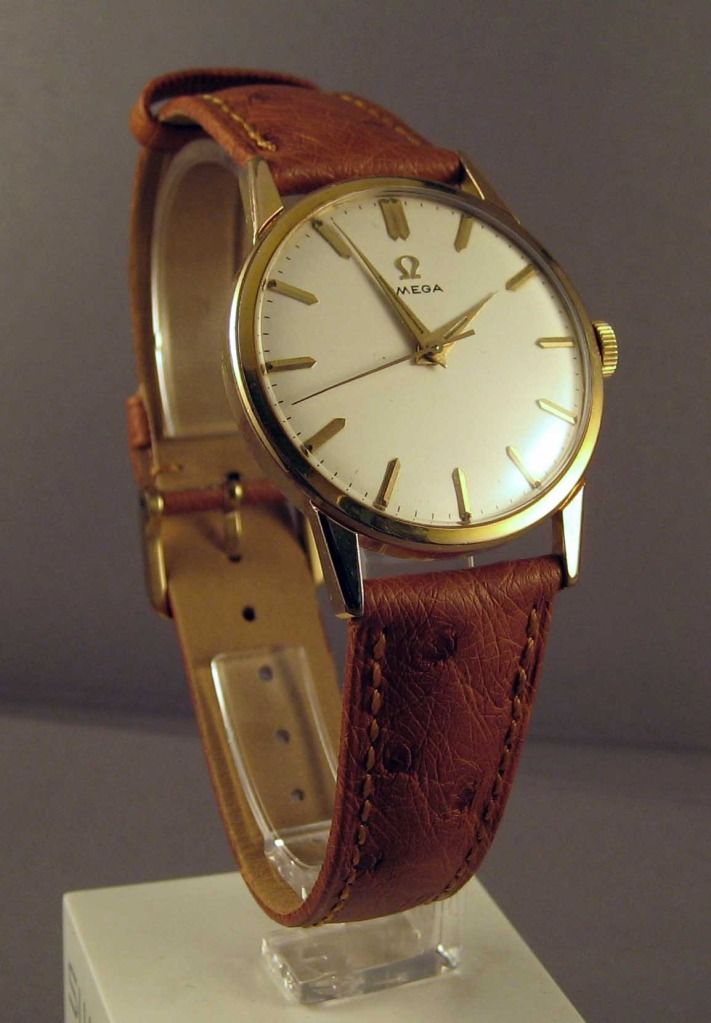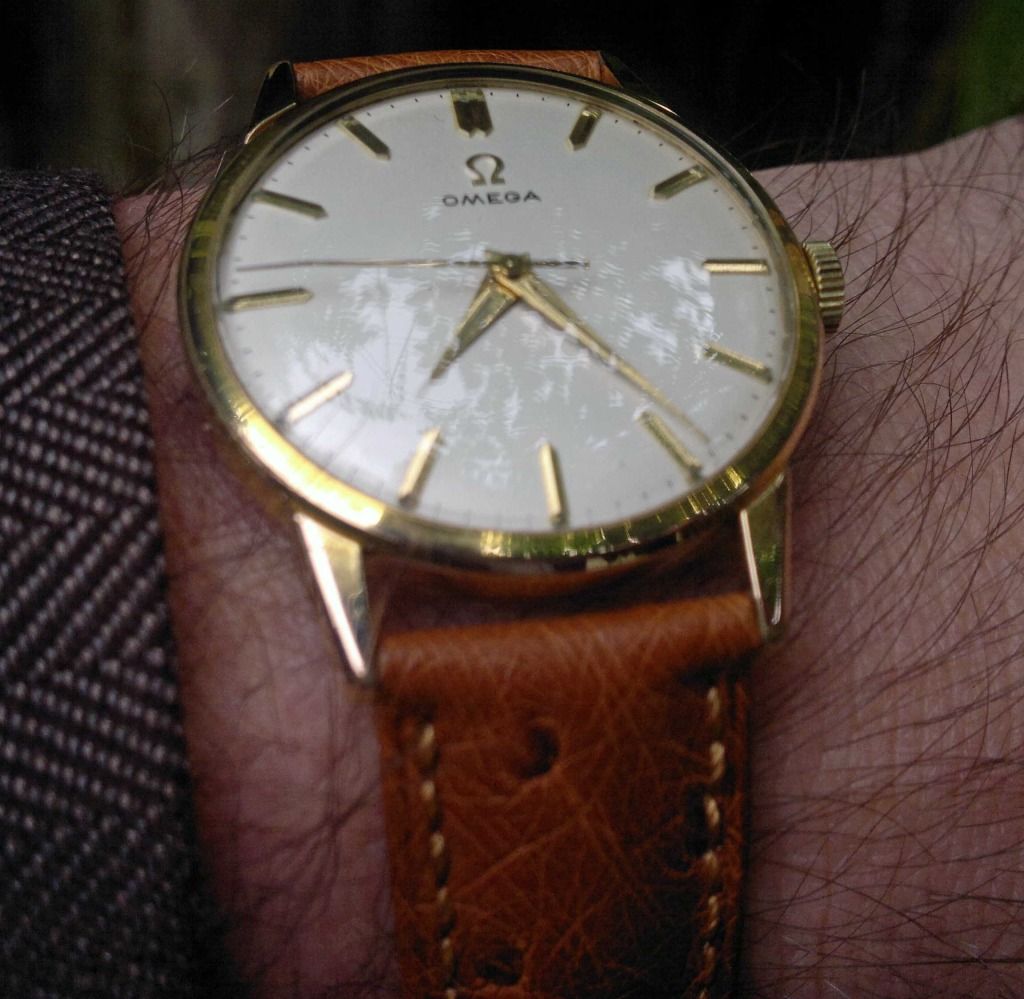 2. 1958 Omega Seamaster. 32mm exc. crown. Acquired March 2012. I love the long straight lugs on this. Feeling flamboyant I put it on a blue lizard the day I bought it and it has been there ever since. Just beautiful!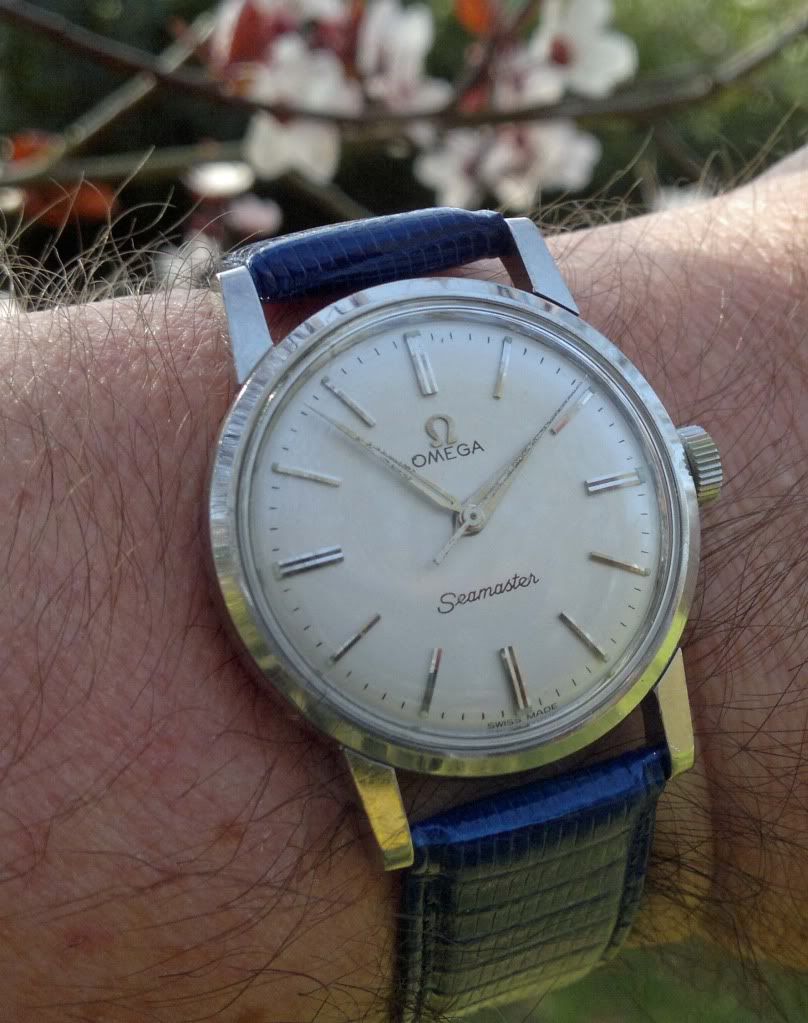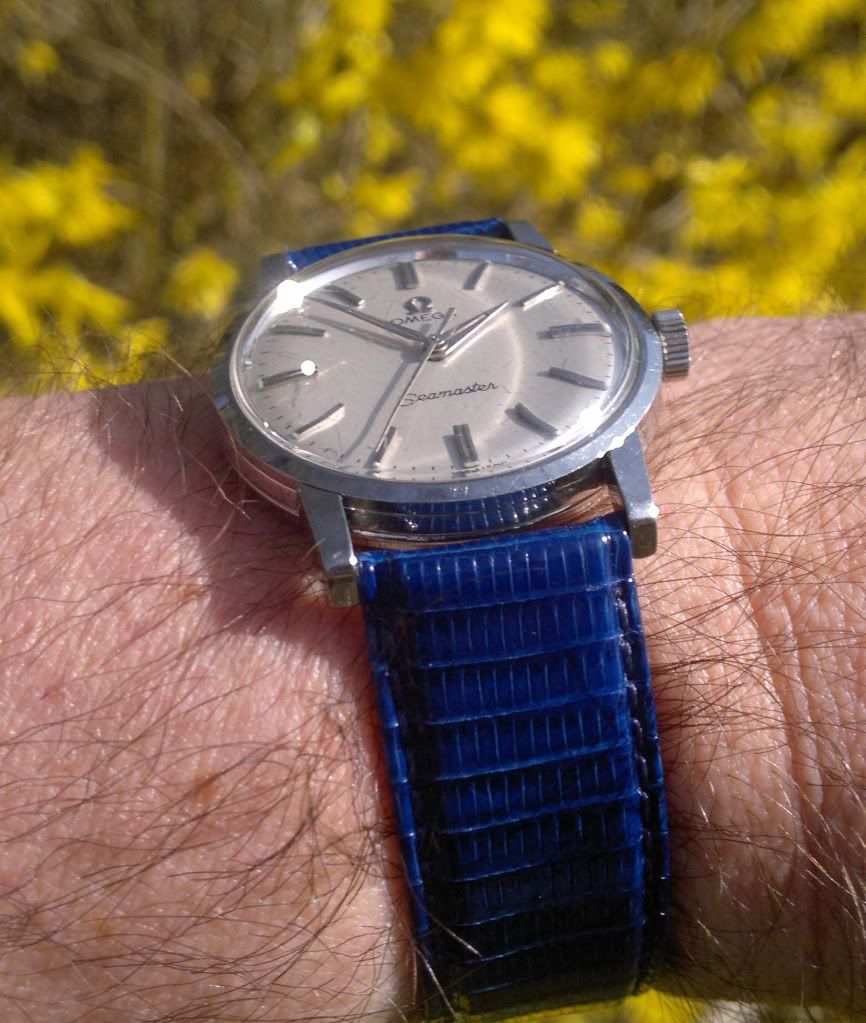 3. Enicar Ocean Pearl, early '60s. 33mm exc. crown. Acquired August 2011. Birthday present from my Mum (top lady!
) I just love the sunburst steel dial on this one. Simple but gorgeous, and a huge favourite, it's getting more wrist time at the moment than any other watch in the collection.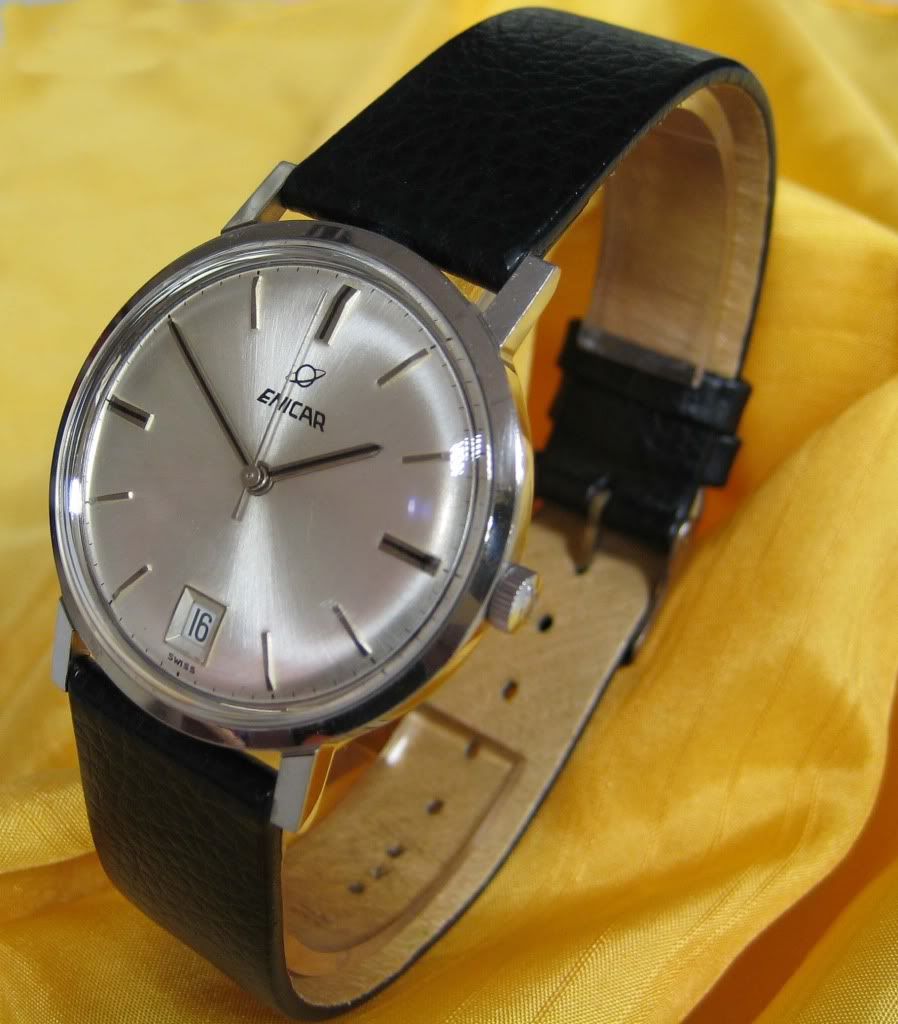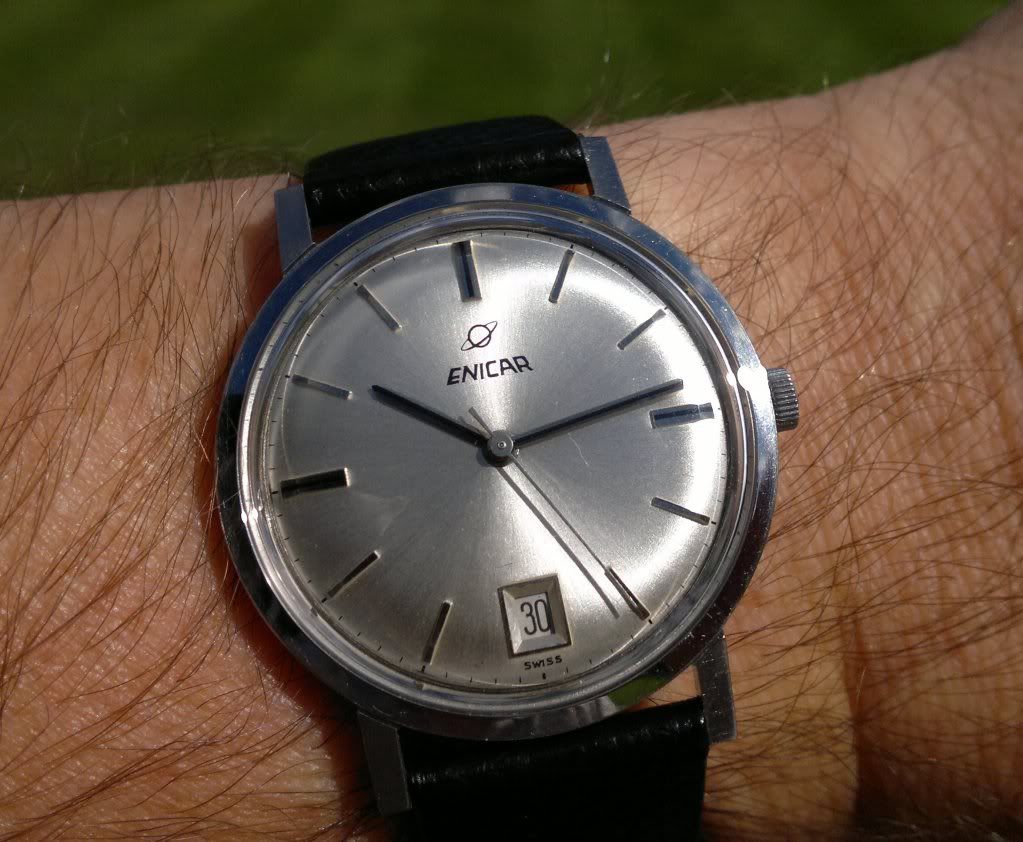 1 & 3 together...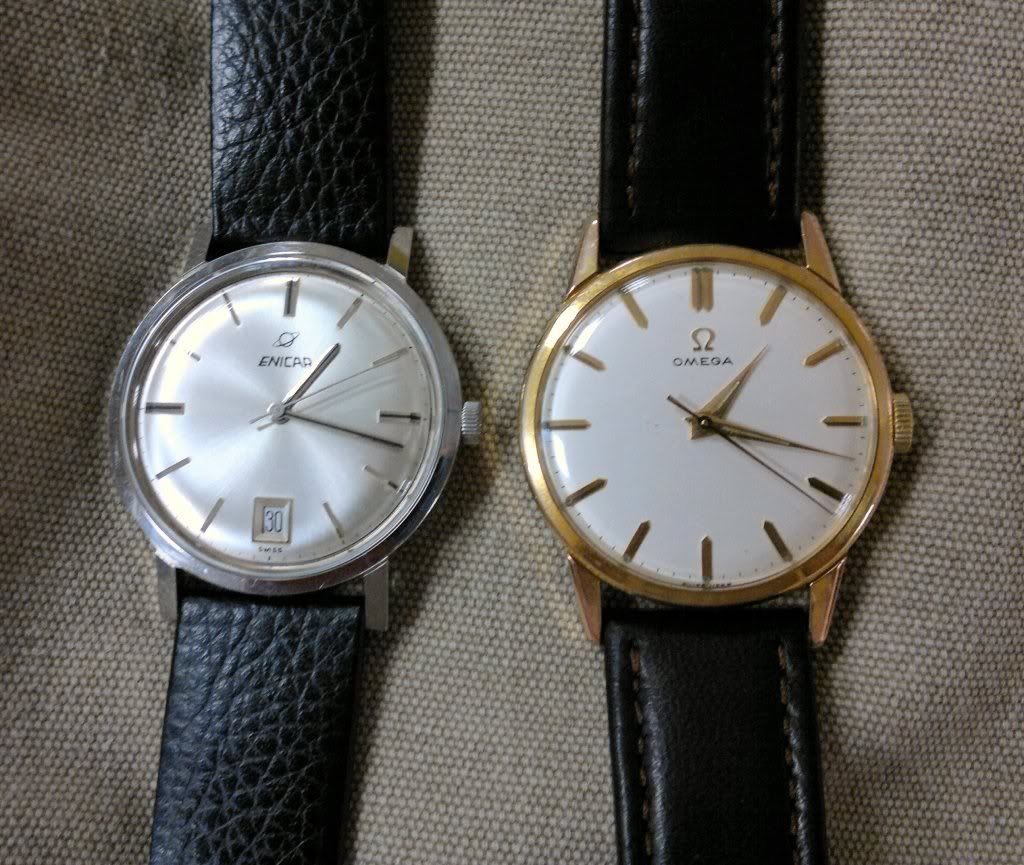 You will see similar pieces for a wide range of prices on websites (and obviously solid gold pieces are more expensive) so it's perhaps worth pointing out that I didn't pay more than £300 for any of these. But they're obviously a cut above the stuff I was paying 50 quid for on the fleamarkets last year, and they were from reputable dealers!
Also worth bearing in mind that gents' watches in the '50s and '60s were much smaller than the watches most of us buy these days, and some people will find them too small. To me they're at the lower end of the sweet spot range and after a couple of days of them even the C5 and C3 feel big and chunky for an hour or so!
Excuse the old photos if you've seen them before...if not, I hope you've got a hint of my passion for these beautiful old watches. Come on, guys, show us your wares, and let's help the fence-sitters take the plunge!