...or the afternoon or evening for that matter?
This question is prompted by the continued spell of very warm and sometimes humid weather we are enjoying in our corner of the UK.
Now, being a couple of kilos over my fighting weight (ie. fat bloke) I'm quite happy when it's hot but much less so when the humidity is high. I hate tight restrictive clothing, especially collars and ties. After next Friday (my least favourite day of the year, when I have to wear a suit and academic dress) I have a couple of months in shorts, summer shirts and no socks!
So... straps? I used to be a bracelet-hater, leather straps only sort of bloke. As with many things watch-related, my tastes have changed.
In terms of fit, I have identified several "settings".
Tight: no way! As I said above, I hate anything restrictive. When I see photos of watches that look as if they are trying to dig a WW1 trench in a fleshy wrist I wince.
Snug: keeps the watch securely in one place, but I am aware of the strap all the time. Perhaps with a small or slim watch on leather, and in cold weather, but preferably not otherwise.
Perfect: hard to describe, but fundamentally a very comfortable Goldilocks setting with leather or bracelet. Stops the watch sliding around on the wrist too much (up and down the arm a bit is OK for me, lateral movement less so) but doesn't leave a mark when you take it off.
Slightly loose: I quite like this setting, especially in warm weather, as long as the watch doesn't slide round to the side.
Jangly-bangly: I've certainly seen it, especially with bracelet watches. I've tried it but not for long!
With a leather strap I can never seem to find the perfect setting so I tend to end up making an intermediate hole between one that's just too tight and one that's just too loose. Top marks here to the Cartier double friction déployant. No holes at all, adjusts like a dream. Best leather (well, gator) strap ever.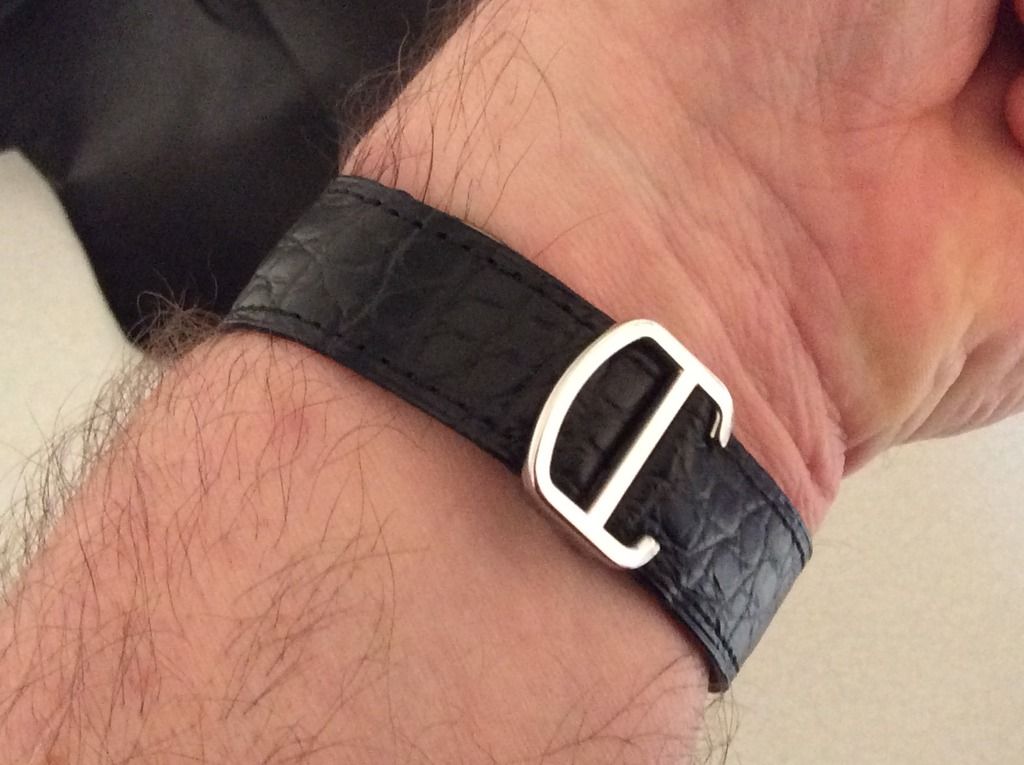 Slightly aside, I like exotics and Cordovan, but my main criterion is that I like softer leathers (again my dislike of things I find restrictive). This Hirsch Merino is just beautiful.
The two together:
I rediscovered the joy of quality bracelets with the Speedy and more recently with the Trident GMT. Perfect for warm weather, especially the CW, as it can go from snug to jangly-bangly in seconds. Which is where I came in, really...point being that the wrist can expand throughout the day, especially in warm weather.
NB. This was taken before I had the bracelet resized, so it's too tight.
How do you like yours?