I am aware that there has been mention on the forum that it would be nice to have a bit more variety in topic subjects, and although I generally write topics about watches and watch history, I am happy to oblige, especially when the subject interests me and leads me to formulate my thoughts and information about a particular subject.
In this case, I was browsing in a charity shop the other day and came across a set of five rather striking small framed prints, all of them by the same artist - Benjamin Chee Chee. I had never heard of this artist and knew nothing about his work; it was the graceful economy of line and detail of the pictures that intrigued me. I purchased the five prints for the grand sum of £10, and although Kristina questioned my purpose for adding more bric-a-brac to the house when we are trying to have a major clear-out, she did agree that these prints were certainly unusual.
Benjamin Chee Chee print entitled, Swallows, exemplifying the grace and harmony evident in so much of his work (pic from aboutcanada.ca):
Benjamin Chee Chee (born Kenneth Thomas Benjamin) was a Canadian artist of Ojibwa descent. He was born on Temagami Reserve in Northern Ontario, Canada, in 1944 and had little formal education. He lost his father when he was two years of age and was later to spend many years looking for his mother, who was absent for most of his life. It is thought that the long search to be re-united with his mother fuelled his desire to be a successful artist, and it was only in the last year of his short life that the two of them were to meet. Although Benjamin Chee Chee was largely self-taught as an artist and always retained his claim for Ojibwe status as an artist, his success has to be partly credited to non-native outsiders. In 1965, he moved to Montreal, where he developed his love for drawing, moving to Ottawa in 1973. His first exhibition was held in the same year, at the University of Ottawa, and he then began to garner a following and some fame before his death in 1977.
Chee Chee is sometimes labelled as a prominent member of the Canadian Second Generation Woodland School of native artists, although in discussions of this school as a whole, Benjamin Chee Chee is sometimes little mentioned. This is largely due to the fact that unlike many of his contemporaries, he pursued a unique and economical graphic style, reducing lines and images in such a way that his work was more consistent with mainstream international modern art than with native Canadian Woodland School painters. Work by Chee Chee tends to fall into two categories namely highly abstract and "formal" graphic art and the elegant animal and bird paintings and prints, and it is the latter of these categories that has found quite widespread popularity with the public.
Benjamin Chee print entitled, "Learning," and nicely mounted with a wide double mount (pic from superflea.ca):
The rather beautiful and elegant art work he produced comprising bird and animal subjects executed with simple and graceful curving lines and a minimum of colour, on a stark white background, is to be found for sale online in the form of prints and other articles printed with his work, including mugs and table mats. There is clearly an emotional content to his art, but as far as symbolism is concerned, Chee Chee denied that his work had symbolic meaning. He instead referred to his art as "creatures of the present, and as has been indicated above, he insisted on being referred to as an Ojibwe artist rather than as purely a native Indian painter." There have been other artists whose work has closely echoed that Of Chee Chee's animal and bird studies, but whether these artists were emulating his style or were precursors is not something I have researched. For me, the best of Chee Chee's work transcends the similar-styled pictures by the other artists.
Small Benjamin Chee Chee print, currently available online, entitled, "Spring Flight" (pic from aboutcanada.ca):
The early life of Benjamin Chee Chee was undoubtedly troubled, with him being sent to a reformatory school at the age of twelve and a lack of parental input from infancy. It is also true that Chee Chee experienced considerable racism during his lifetime, although non-native friends and supporters were to be important in lending him artistic success. Sadly, with alcoholism as a further contributing factor, Benjamin Chee took his own life in an Ottawa jail cell only three years after he had achieved national prominence and was on the brink of international recognition.
On 11 march 1977, the following events took place, according to a book published in 2004 and written by Al Evans, "Chee Chee delivered the 18 paintings he had promised his agent, a collection now known as the Black Geese Portfolio. He then went to Jimmy's restaurant on Bank Street, a tavern he frequented. Police were called to find a window had been broken and Chee Chee 'boisterous and intoxicated.' He was placed under arrest and secured at 6.50 P.M. in police cell no. 10, which was a bare cell for uncooperative prisoners. Minutes later Chee Chee was found hanging from the bars of his cell. He had hung himself with a noose fashioned from his shirt. He died in hospital three days later."
Clearly, there are questions that need to be asked about the suicide of Benjamin Chee Chee, and to some extent his death is also pertinent to the wider question of so-called young "aboriginal" or native Indian suicides which became relatively frequent at about this time. Nevertheless, the book by Al Evans just quoted and entitled, "Chee Chee: A Study of Aboriginal Suicide", was probably not the right forum to bring the name of Benjamin Chee Chee into the light as being a typical young native Canadian suicide brought on by the adverse treatment of his peoples by white society. The personal circumstances of Chee Chee's life are not wholly consistent with such a claim, and there are particular problems in basing a theory on the life and tragic death of one young native artist.
Original signed abstract in acrylic by Benjamin Chee Chee (image size 30 X 24 inches) for sale on canadian ebay for about US$4,5000 (pic from ebay,ca):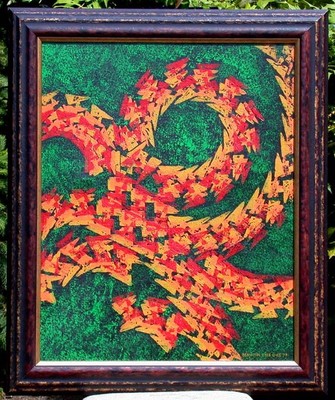 Benjamin Chee Chee was only 32 at the time of his death, yet his body of artistic work, which included prints as well as paintings, has become well-known in Canada and has also become known abroad. A number of exhibitions were held shortly before and also after his untimely death, and his pictures can readily be found for sale in print form online for sale. It is not always easy to differentiate between a print run made from a painting and a print run that started out as an original print by the artist; the illustrations shown here are therefore classified as they appear from their picture details when sourced. My own set of prints could probably benefit from having wide white mounts as they are currently framed in cheap metallic-coated small plastic frames. Fortunately, Kristina is a skilled picture-framer as well as being a professional artist herself, and I hope that she will mount and re-frame these lovely prints for me in due course.
Benjamin Chee Chee limited edition lithograph on paper, signed and dated 1974 and titled, "Running Horses" (pic from hessel.com):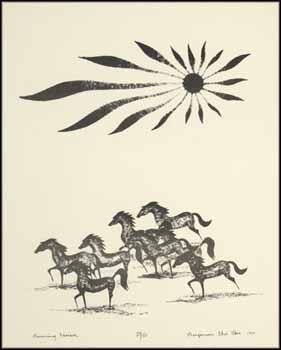 Original gouache painting by Benjamin Chee Chee of a goose in flight - sold in 2008 for just over CA$5,000 (pic from westbridgefineart.com):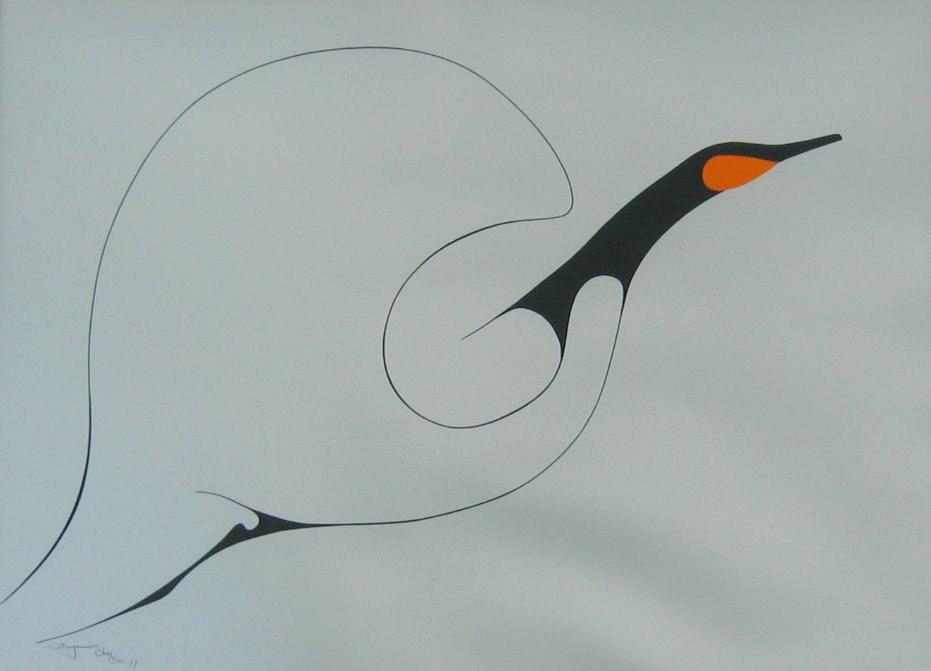 Untitled abstract painting in acrylic on canvas by Benjamin Chee Chee, 1974 (212 X 121.2 cm), and now in the Bert Curtis Benjamin Chee Chee Permanent Collection (pic from theag.ca):