As some may have seen in the "Non CW of the day" thread I have a new watch
I have made a watch in the past using a seagul - unitas clone, I needed to change a few bits within the movement to take away the small seconds. This is the result -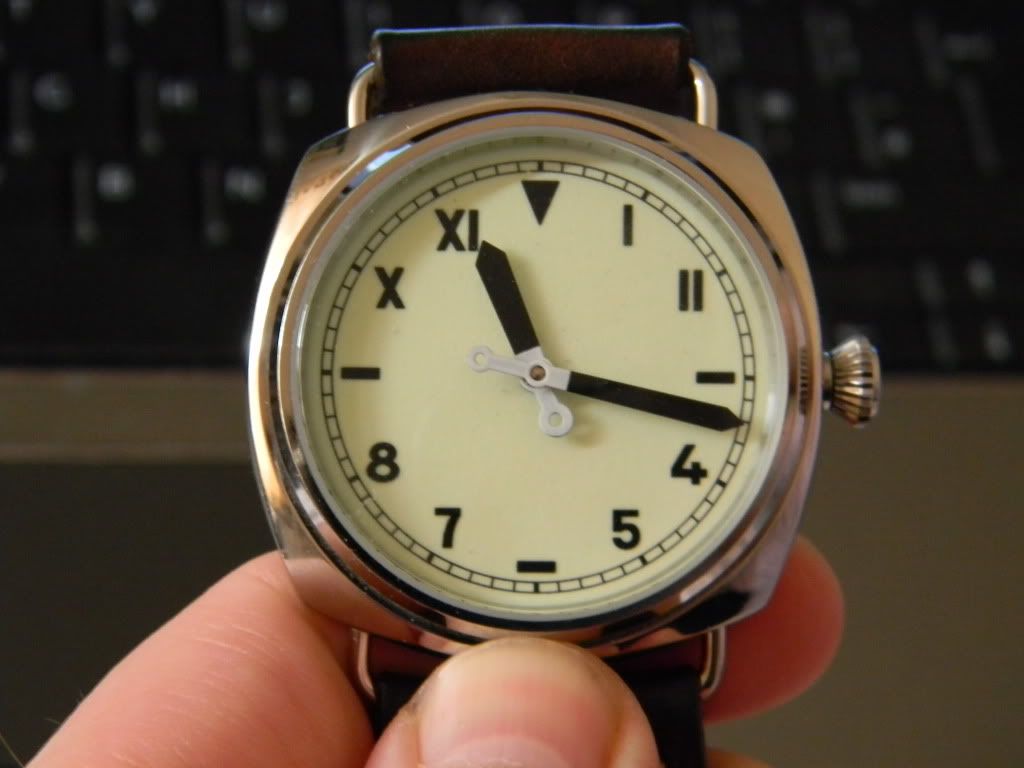 Soooo I thought why not make a chronograph using a valjoux 7750?
Well the story started when conversing via this forum with Lorne from OFFSHORE Professional Classic Chronographs Ltd. He mentioned he had a few test cases available to sell. So thought I would give it a go. Lorne VERY kindly gave me a case for free. It is a really nice bit of work. I love the pushers.
It is 44mm case. 47mm including crown. 14.8mm depth. 22(ish)mm between the lugs. Sapphire crystal
I got a a pretty 7750 movement with blue screws and swirly bits
FROM HERE
I also got a black day and date wheel. Could of had the seller fit them but thought nah how hard could it be?
I did get a very nice carbon dial but it had a tachy on it. thought i might be able bodge it a bit but then thought i would be safe and got another and a set of hands
From this seller
So with all the needed bits I set about to make my watch.
I changed the day and date wheel bit difficult but I did find something on the net that gave a step by step guide (can't find now) put the dial on and the day wheel slipped. Re did it - same promblem. Third attempt thought I got it. Went to put the hands on big hands where no problem but the little ones were a ****. eventually got them on but had jammed the movemnet. and the day wheel slipped again. So took the hands off and the movemnet strated. I just don't have the hand eye coordination to put the little hands on. Also didn't want to f**k it up beyond repair.
This was the point I now went to plan B - trying to find someone to do it for me. No watchmaker I contacted would do it.
So I looked through past threads on here
and found this one
. I contacted Paul who was a bit hesitant. I begged and still not to sure so after pleading he agreed to do the build for me. (the money I gave him may of helped a bit). I sent the bits of and Paul set to work straight away. Updated me with pics along the way. Apparantly someone had bodged the date wheel spring thing thats why the day wheel slips
Anyway a short while later and it was back with me.
I have added a nice black Fluco Shell Cordovan strap and it has been sat on my wrist since sunday. Very happy with it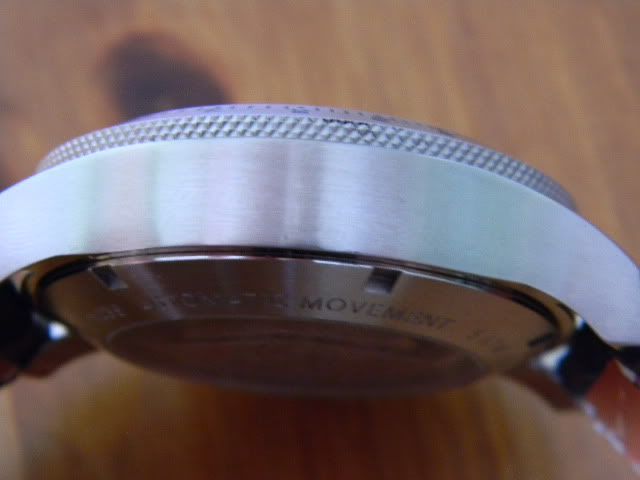 I don't mind the wonky day wheel as it reminds me to leave things alone and if someone offeres to change it for an extra £7 say yes and pay the money. It does look ok at 3 and quater past the hour.
Would of liked the sub dials not to cut through the 6, 9 and 12 but as I needed a large dial I was a bit limited to choice
I would like to thank Lorne for the case and Paul for doing the build.
Still want to keep making watches but chronographs are now a no no so looking to have a go with a ETA 2824-2 or similar